What would I have done without this little cafe, tucked in an obscure street of the Mykonos chora? How often do you find a good cafe during a short holiday, but long enough to fall in love with it?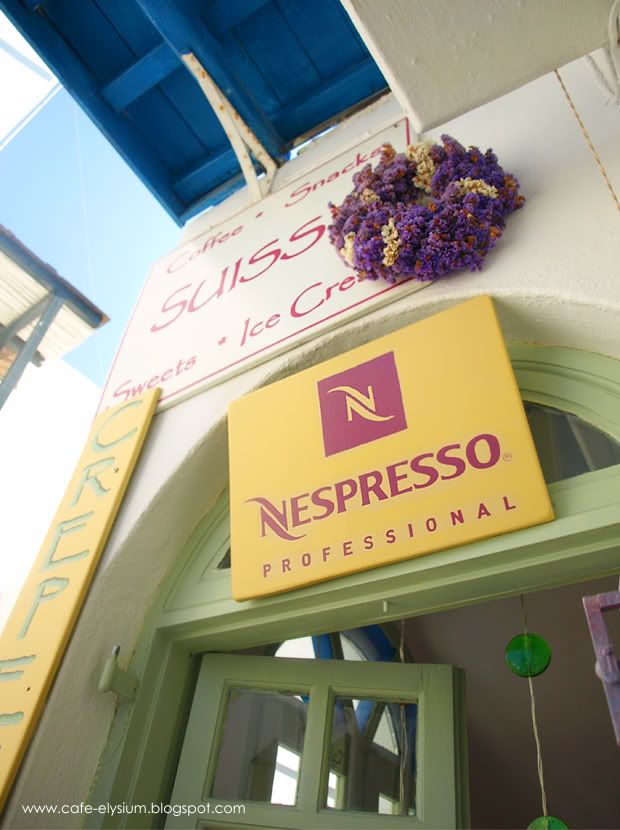 My favourite hang out almost every morning in Mykonos...
Suisse Cafe
looks cutesy from far - probably why it has that attraction power that somehow entices you to come close. As if that isn't reason enough to check them out, you'll be greeted by the friendliest face around. Meet
Giselle
, the owner.
Giselle speaking to some customers...
Giselle runs this cafe single-handedly. How did she serve so many people and still find time to make them feel at home, is really beyond me. Pesky McD counter staff have loads to learn from Giselle.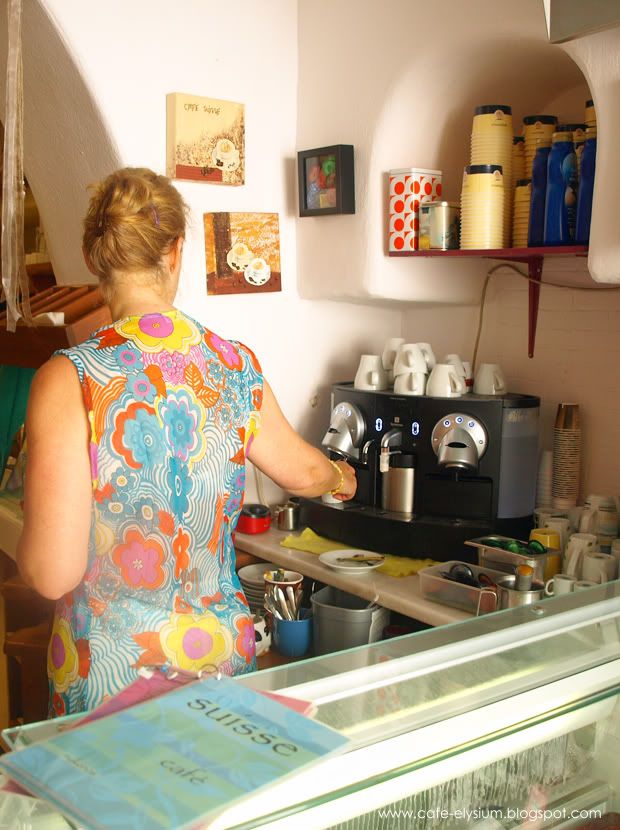 Is she the coffee pied-piper? She got me tailing her into her bar...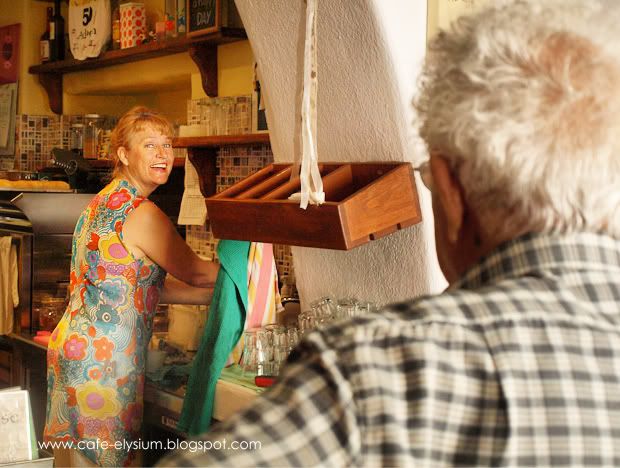 Infectious disposition... Everybody seems to enjoy a tete-a-tete with Giselle!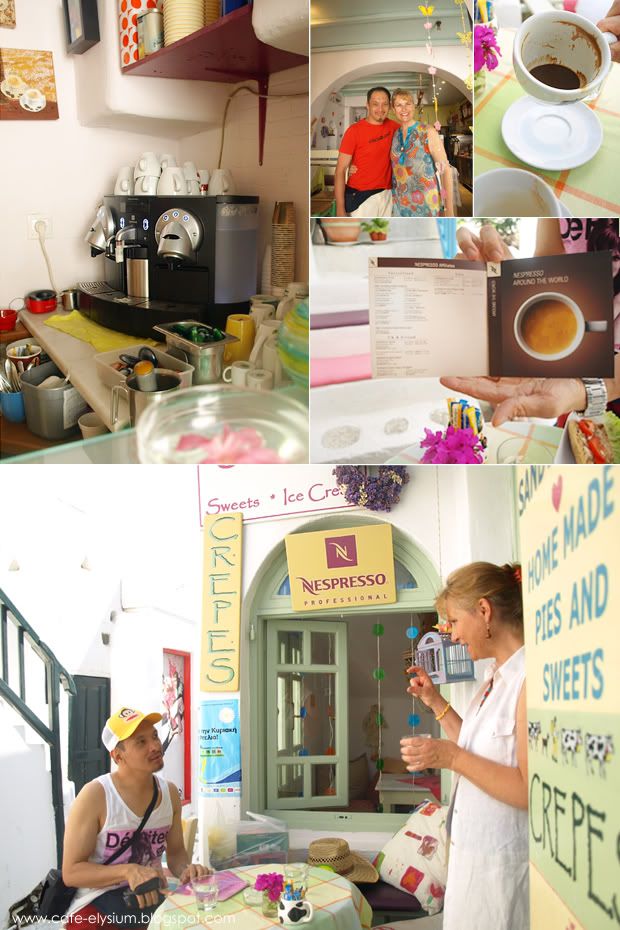 Giselle and I got acquainted instantly. And before we knew it, we were already talking serious coffee business...
Mykonos is an island quite a distance from the Greece mainland. To get her fresh supply of coffee, the type that she wants, she had to make frequent trips to Athens! Wow, such commitment!
But when a person is passionate about coffee, no distance is too far, and no trouble is too big... That probably explains why Giselle displayed such steadfastness in running the cafe alone, and still commanding the situation...
Giselle was such a fun person! I could see some Samantha Brown wittiness in her, and yet there was this certain motherly warmth... The interior of her cafe showed the fun side of her, with cute little bric-a-bracs in every corner...
All the mornings I was there, I had ordered only Greek coffee, while my travel mate Wahdi went with something milder, usually a latte or even a cappuccino...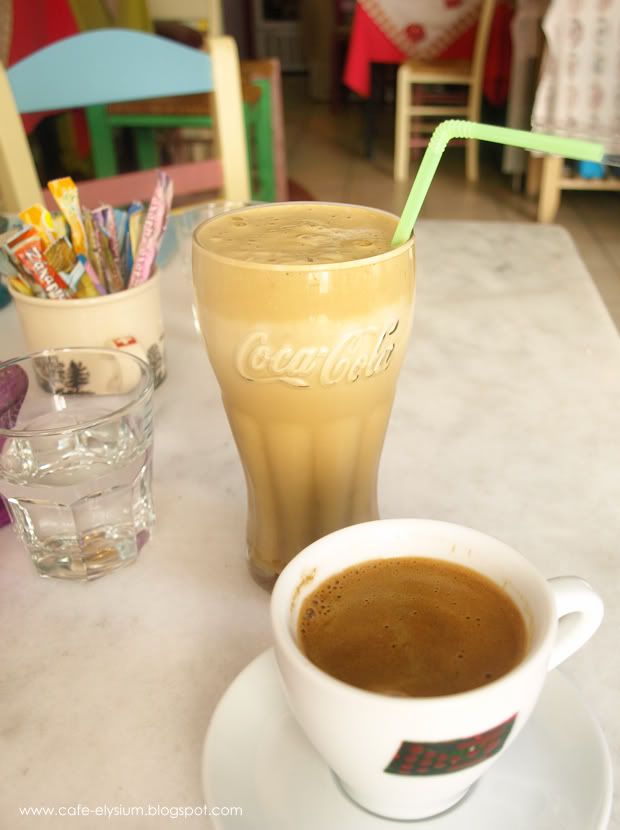 Fancy some cappuccino, served in a Coca-Cola glass?
Why Greek coffee for me? I somehow find the woody grind that she used actually went very well with such a thick brew... Woody coffee needs time to develop its full flavor and that probably works well with the slow-dreging that takes place in a Greek coffee...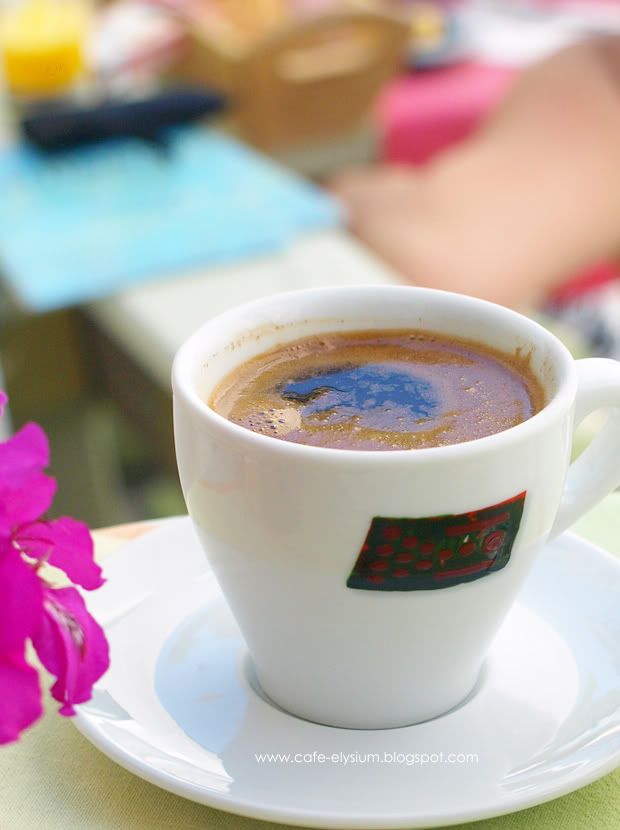 My Greek coffee.. hand-brewed by Giselle herself...
I didn't know there's a specific way to drink Greek coffee. Giselle somehow sensed that I was totally new to Greece, Greek culture and... Greek coffee! She took sometime to explain to me how Greek coffee is brewed and how it's supposed to be sipped. What I can say is, Greek coffee is one thing you don't order if you are rushing off somewhere..
Greek coffee, explained Giselle, must be given time for its dreg to settle in. In fact, they don't call it "mud coffee" for nothing, referring to the thick sediment that sinks as you drink...
Greek coffee... How heavenly!
While in Mykonos, I bought myself two ibriks - I hope to make some decent Greek coffee soon! In the meantime, have a tour of Giselle's cafe at my travel buddy's blog
here
...
.